Hello everydoggies! Been some time since we last updated. Last Saturday Mummy brought us to Aunty E's house. There we met Paw korkor, Yoyo, Baby, Harmony, Bond and Coco =) We hung out together while waiting for the hoomans to take their dindins. After their dindins, they brought us for a long long loooooooong stroll along the east coast beach. The weather was good and it was windy.

We walked from McD's all the way to the hawker centre; to and fro. Many hoomans went "Oooh" and "Aaaah" in awe as we walked pass as we were in a group of 8 and consists of 6 diff breeds. It was so nice to get all the attention, and I love getting petted =)

This pic is taken at Aunty E's house after we returned from our long walk. See puppy Yoyo so exhausted. I was kind enough to lend him my precious thigh to rest on =P




On Sunday, Mummy went to collect a comb called the FURminator and tried it on me.
She only managed to collect a small 'furball'.. Will try again next week and share some pics.

And Oh, I want to thank Cocoa and Barley and also the BWTH Dog House for giving us an award =) They loved our blog. *aaaaawww* Thanks alot!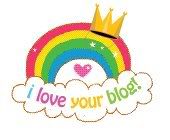 So here goes the rules:
1. The winner can put the logo on her blog.
2. Link the person you received your award from.
3. Nominate at least 7 other blogs.
4. Put links of those blogs on yours.
5. Leave a message on the blogs of those you have nominated.
-
We would like to nominate these 7 good doggyfriends of ours:
4. Emma the baby Shih Tzu (she's so cute!)
5. Dango the cool Bull Terrier
Have fun! Yeah!