new fur-style on Patches again..


*********************************

My order from
Doggyfriend.com
came last night.. Finally gotten to replace Zen's old water bowl to a
Yogi water bowl
. She had been using a
Drink Better Bowl
for close to 2 years. Initially had wanted to tried to Yogi water bowl but was told that the Drink Better Bowl is made of heavier plastic, thus chances of flipping it over is low. Zen used to be confined in a 3ft x 3ft pen whenever we are out of the house, and she likes to play with her water bowl and made a point to flip it upside down.. Now that she gets free access to the whole house, she doesn't play with the water bowls anymore.
Both bowls worked the same way; each have a 'floater' on the surface to prevent wetting of the dog's beard when drinking water from it. And I recently found out that the Drink Better Bowl starts to emit a funny smell from its plastic surface.. Also, the floater is not working very well so I guess it's time to change it and I'll get the Yogi that I've always wanted.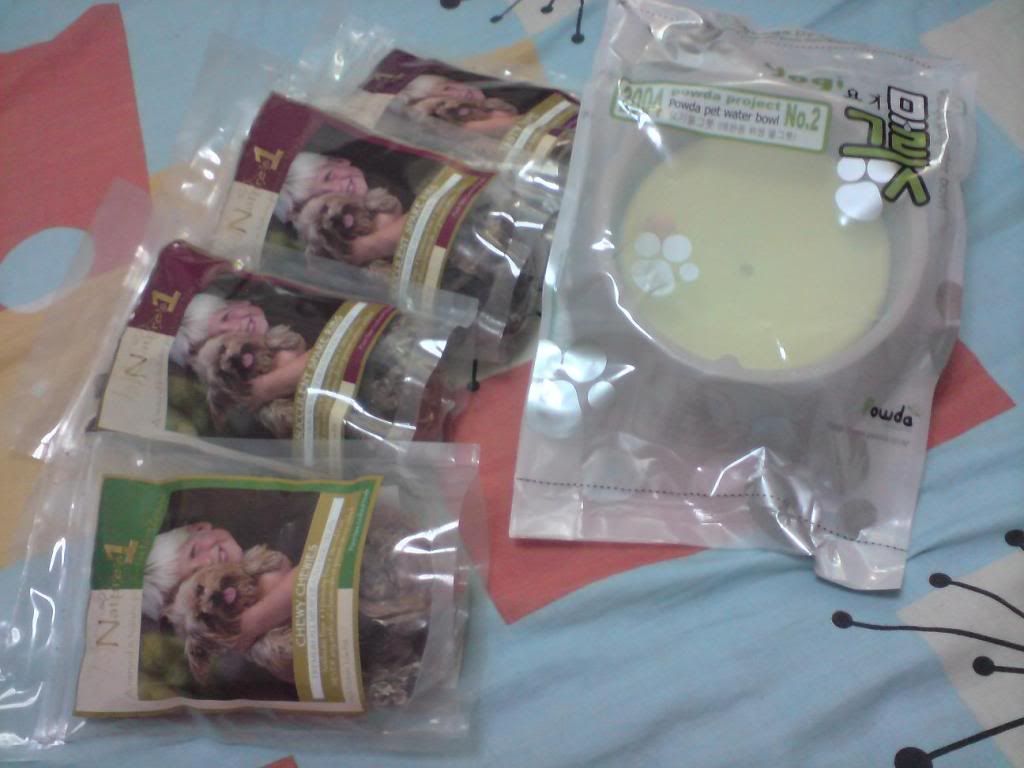 More Nature1 treats for the girls. They loved it, and I love feeding to them cos they're healthy and organic chew treats. This time round I've gotten the Chewy Chewies, Spare Ribs (2 packs) and am trying out this Tasty Tripe. Even Patches the lazy chewer had taken a liking to this Nature1 treats. Needless to say, Zen is always a foodie junkie.
Oh, and I love the bowl :) I'm a big fan of Powda products. I think they're great inventions. A little bit pricey, but they're good! And in case you didn't know,
Doggyfriend
offers a wide range of products and their prices are one of the lowest in town. How's that for an online pet store? Their delivery service is prompt and flexible too. You all should try their service. I always order my stuff from them. Two thumbs up for the excellent service, Isabelle :)